Published on: 16-09-2016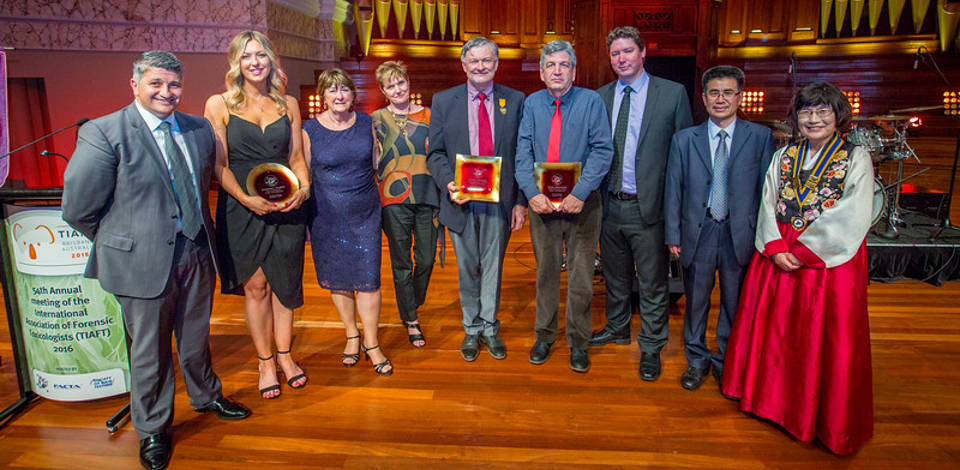 Dear TIAFT Members:
I proudly inform you that the 54th meeting in Brisbane from August 28 to September 1 was a great success. Through all of our wonderful meetings it is evident that we are making progress.
The Brisbane meeting proved to be one of our best with 510 participants including 35 students from 46 countries. It was the third meeting in Australia. Perth hosted the meeting in 1990 and Melbourne hosted it in 2003.
I would like to take this opportunity to thank the chair of the meeting, Olaf Drummer and his wonderful team including: Mark Stephenson, Dimitri Gerostamoulos, Shanlin Fu, Tim Scott, and Irine Kourtis for their hard work, dedication, and selfless service to make the 54th meeting successful.
Even though it was still winter, Brisbane was sunny, bright, and very pleasant. Brisbane, located in the heart of Queensland, offered an abundance of things to see and do. It was very attractive to all of the participants.
On Sunday, the board meeting commenced at 9:00am to discuss 22 items including: executive member reports, committee activities, the best bulletin award, grants for analytical methods, the project with UNODC and many more.
I am delighted to announce that Sarah Wille and Jennifer Pilgram will be our new bulletin editors. As you know, it is a very demanding job, so please send them many articles to support their efforts.
I am also happy to inform you that the Ethics committee was newly formed again to strengthen our organization and Olaf Drummer will be the chair of this committee with Frank Peters, Robert Osiewicz, Yiju Yao and Eluterio Umpierrez as members.
The Board also decided to open the grant for analytical method to all members, not just those from developing countries. When you need to establish a new method, please contact me according to the guidelines on the website.
On Sunday, the regional representative meeting was held with 20 RRs from all over the world. There were many issues discussed including the decrease of standard memberships, the status of developing countries which exceed the threshold for DC eligibility and so on. The expansion of travel grants to all members just like travel grants to DC members was raised and will be discussed with the board.
On Monday, the opening ceremony was held with the Police Commissioner of Queensland, the President of the Society of Hair Testing, Markus Baumgartner and the chairs of the organizing committee, Olaf Drummer, Mark Stevenson and myself as speakers.
The scientific program was superb with 112 oral and 200 poster presentations. While the 112 oral papers were presented over 4 days, I was amazed to see that all presenters explained their work precisely in 8 minutes and there were always a couple of questions and comments from the audience after the talk in two minutes time. I was very impressed by the enthusiastic discussion between speakers and audience members including both experienced and young scientists. Thanks to all of the high quality papers, all participants were actively involved in activities and shared their ideas and thoughts. I would like to thank Olaf and his team again for preparing such a fantastic and beneficial scientific program. The six key note speeches were also fascinating and educational.
The social program was also very well prepared. The welcome reception at the Terrace Plaza was full of excitement.
The most interesting part for social program came with the half-day excursion to Lone Pine Koala Sanctuary. Lone Pine Koala Sanctuary is the world's first and largest koala sanctuary, with over 85 years of experience and 130 koalas. What a great place to have a chance to cuddle cute Koalas. The Koala cuddle photo will truly be a treasure to all participants. It was a wonderful moment to see Kangaroos leap up and down. It was just incredible to pat and feed a Kangaroo with my own hands. It was a great memory for all of us.
The business meeting was held on 1 September with more than 150 members. After the reports from the president, secretary and treasurer and chairs of committees, the future meeting hosts of 2017, 2018 and 2019 briefed their plans. For the 2020 meeting, there was only one bid from Cape Town, South Africa, so the 2010 meeting will be held in Cape Town under the leadership of Alice Evans.
The issue of term limit of board was discussed and the majority of members favored two terms at one position. Since it needs the constitutional change, it will be notified on the Bulletin. Another issue to discuss was the initiative on NPS with UNODC. Dr. Justice Tettey, a chief of Section of Scientific Laboratory of UNDOC came to the meeting, gave a talk regarding this project and attended the business meeting for further explanation. Because all of us agreed that it will be beneficial to all members, I will do my best to work this out and inform you the progress of this project through emails or the website.
The gala dinner was held at the beautiful Brisbane City Hall. It is a lovely and historic place. This year we were honored to have Olaf Drummer as the winner of the Alan Curry award in his country. He is our real life forensic toxicology super hero and a living legend of forensic toxicology. He became a TIAFT member in 1990 and has been in the field of analytical and forensic toxicology for 40 years. He has 190 articles in PUBMED, 239 articles in SCOPUS and 263 publications with an impressive Research Gate score of 43.95. He received an honorary doctorate degree from the University of Antwerp in Belgium. On behalf of all members, I was delighted to present the Alan Curry award to him.
Helena Teixeira, Portugal was the winner for the achievement and Ashley Barrett for the best bulletin award. For the young scientist award, Florian Franz was the winner of the best paper, Svante Vikingsson for the best oral presentation and Laura M. Huppertz for the best poster presentation. Congratulations!
I am confident that all participants brought back to their homes wonderful memories of our time together in Brisbane. It was a great moment for us to learn from each other, contribute to our profession, enjoy a great event, and strengthen our friendships. I greatly appreciate your presence at the meeting. You are the ones who make all the difference. Thank you very much for attending the meeting.
Once again, I would like to send my heartfelt thank you to Olaf and his wonderful team for their hard work and dedication. I also would like to acknowledge all sponsors and the ICMSA team for supporting this meeting. Thanks to all of you, the 54th meeting was a great success.
Sincerely,
Dr. Heesun Chung,
President, TIAFT