Strategy is the Key to TIAFT's Success
Published on: 15-01-2018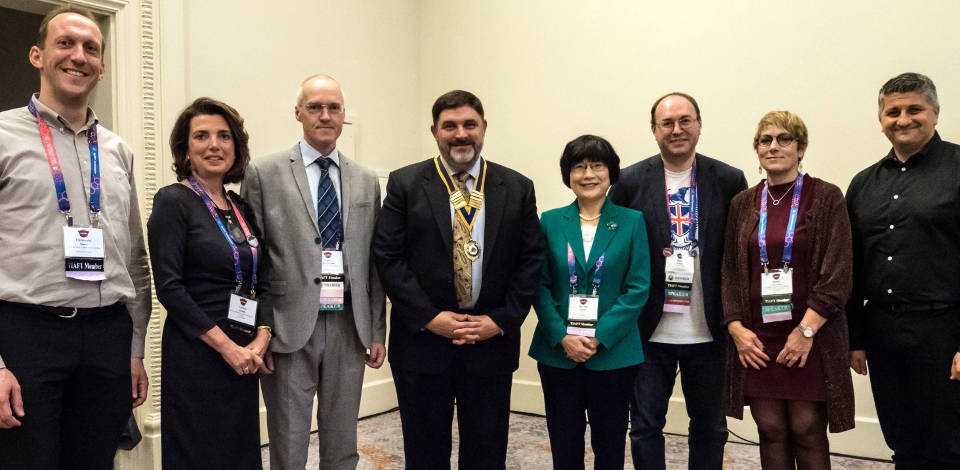 Dear TIAFT members,
What an honor it is to know that this organization and its members have the trust in me to serve as its President for the next three years. I promise to do my very best to represent all of you in a positive manner while in this role.
Past-President Heesun Chung did a remarkable job of leading the TIAFT association towards more transparency and organization. We all need to thank her for her leadership, her kindness, and her hard work. I am blessed that she will be by my side as a mentor in her new role.
We had an exciting Business Meeting during TIAFT's 2017 joint congress with the Society of Forensic Toxicologists in Boca Raton, Florida. Of note was that we held elections for the new TIAFT Board. I am very happy to announce the results of the election:
President-Elect: Dimitri Gerostamoulos
Secretary: Carmen Jurado
Treasurer: Robert Kronstrand
Board Members: Simon Elliott, Donata Favretto, Christophe Stove
It is a privilege to work with such a strong group of dedicated TIAFT members.
We also selected the host city for the 2021 meeting. TIAFT Members from Italy, Simona Pichini and Francesco Busardo, wowed the attendees with their proposal to hold the meeting in Rome and the membership widely approved. Congratulations to Simona and Francesco!
During my Incoming President's remarks, I was very pleased to include a surprise announcement. For much of 2017, the TIAFT Board worked to establish a relationship with Oxford University Press – the publisher of the Journal of Analytical Toxicology – to make JAT the official journal of TIAFT. Further, effective immediately, all Standard and Honorary TIAFT Members will now receive FREE access to the online version of JAT. To access JAT, simply connect through the link in the Members Only area of the TIAFT website.
Additionally, I revealed the framework of the TIAFT Strategic Plan for the next three years. The details will be developed by the new Board over the next month or so, but our initiatives will include the following:
Improve our Ethics Procedures with clearer written expectations for the membership and a better mechanism to address ethics violations
Develop more-defined processes for the organization with a focus on how regional meetings are supported by TIAFT
Establish operational procedures for our committees, starting with the Communications Committee – a rapidly-developing face of TIAFT
Solicit ways to ensure members understand the benefits that TIAFT membership provides
Continue to build the TIAFT membership with a specific focus on recruitment of more members in Southeast Asia and Southeast Europe in the next three years
Improve communication with and input from members in ALL parts of the world – not just those able to attend TIAFT Annual Meetings
Look for more details on the above initiatives in the coming months, as well as updates on our progress on these matters in my future messages.
In closing, I would like to thank the entire TIAFT membership for the trust you have placed in me as the next President. TIAFT is a fabulous professional association, but its members are also part of a huge network of friends working together to learn from one another. Let's make those friendships even stronger in the coming years!
Marc LeBeau, PhD
President, TIAFT