President's Message – May 2022
Published on: 06-05-2022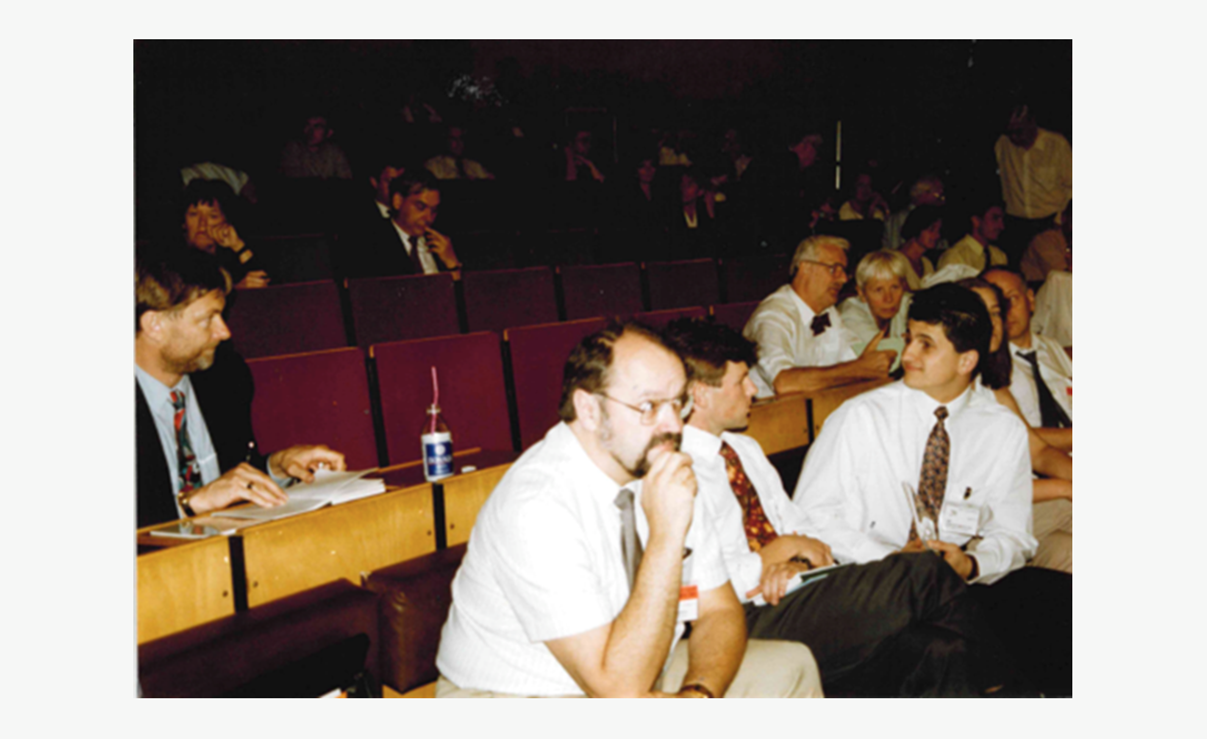 Leipzig 1993 From left: Olaf H. Drummer, Robert Wennig, Michael Robertson and me.
Dear Colleagues and Friends,
I trust that many of you have submitted your abstracts for our annual meeting in Versailles in early September later this year. I know that the scientific committee has received more than 300 submissions and they are truly excited by a full in-person meeting. Jean-Claude and his team have promised us a "Royal Meeting" so we are certainly looking forward to being treated as such in France!
We have also received more than 45 applications for the TIAFT Travel Grants! It will be quite a task for the Board to select eleven successful applicants from this many applications. We will do our best and use our evaluation criteria to determine the awardees of those grants. Awardees will be notified after the Board meets later this month.
It clearly looks like our membership wants to resume our annual conferences – something we have missed very much over the last three years. Please remember to register and book your accommodation as soon as possible to avoid disappointment. There are also several TIAFT regional meetings planned for later this year so please refer to our website for more details as they come to hand.
This month (10th May) we have another education opportunity for our members provided by the TIAFT Continuing Education Committee. The webinar is "Alcohol: Global Perspectives" and in this 3-hour webinar different aspects of the analysis of alcohol, including back-calculations and alcoholic blackouts, will be presented and discussed. Additionally, some global perspectives will be provided by members in relation to the analysis of alcohol in their respective countries. Remember to book on the member website – it's free for members!
The TIAFT Board will also be meeting in person in Belgium on 23-25th May, 2022. This will be our first in-person meeting since Shanghai in 2019 (hard to believe but true). This opportunity is essential in developing our agenda for the next three years. As I outlined in my last message, we will finalise our strategic plan, refresh committees and regional representatives as well as complete a number of other tasks related to the functions of our association. Whilst we have already had three Zoom meetings since the new Board was elected, I am certain that by physically meeting in Belgium this will enable the Board to discuss and decide on matters of importance to the association in a non-virtual setting (alas). The Board will have a full report available to the membership after this meeting, including the celebration of another notable Belgian toxicologist (more on that in my next message).
If you loved the last edition of the Bulletin as much as I did, then please don't feel afraid to email or contact our Bulletin editors Sarah Wille and Jennifer Schumann. They have really done an amazing job and every edition is something to look forward to – as a past Bulletin editor I know how much work goes into the production of our Bulletin. This edition features letters to the editor, a book report, updates on meetings and updates from young scientists and moving tributes to great TIAFT people that have passed. I knew both Klaus Muller and Donald Uges and had met them both over many TIAFT meetings over the years. The first TIAFT meeting I attended was in the European summer of 1993 in Leipzig, Germany. It was the 31st international meeting where over 230 participants attended from 39 countries. I still vividly remember the opening concert in the evening at the New City Hall where we had the pleasure of listening to music from Bach and Telemann. From a personal perspective, I remember quite a lot from the meeting, as it was the first time I presented in front of notable scientists with surnames such as Uges, Rieders, Wennig, Pragst, Rivier, Donike, Demme, Muller and many others. I remember Fred Rieders asked me a question after I gave my talk on detection of opioids in biological fluids using HPLC/ECD – wow, was I nervous!! But it was a terrific initiation into TIAFT. Fast forward almost 29 years, and I am now saddened by the passing of two great toxicologists. There were excellent tributes in the latest Bulletin by past Presidents Marilyn Huestis and Rokus de Zeeuw for Donald Uges and Klaus Muller, respectively. Please take time to read them.
Take care and as a wise past President (very recent!) once said – reach out to those who have hosted TIAFT meetings in the past and say hello and remind them of how much you enjoyed that small window of time in their country! And if in France this is your first TIAFT meeting then please stop and say hi - it may be something you enjoy doing for another 30 years amongst terrific TIAFT people!
Until next time, warm regards
Dimitri Gerostamoulos
TIAFT President