Pr. Aminata Touré, Senegal
Published on: 05-08-2021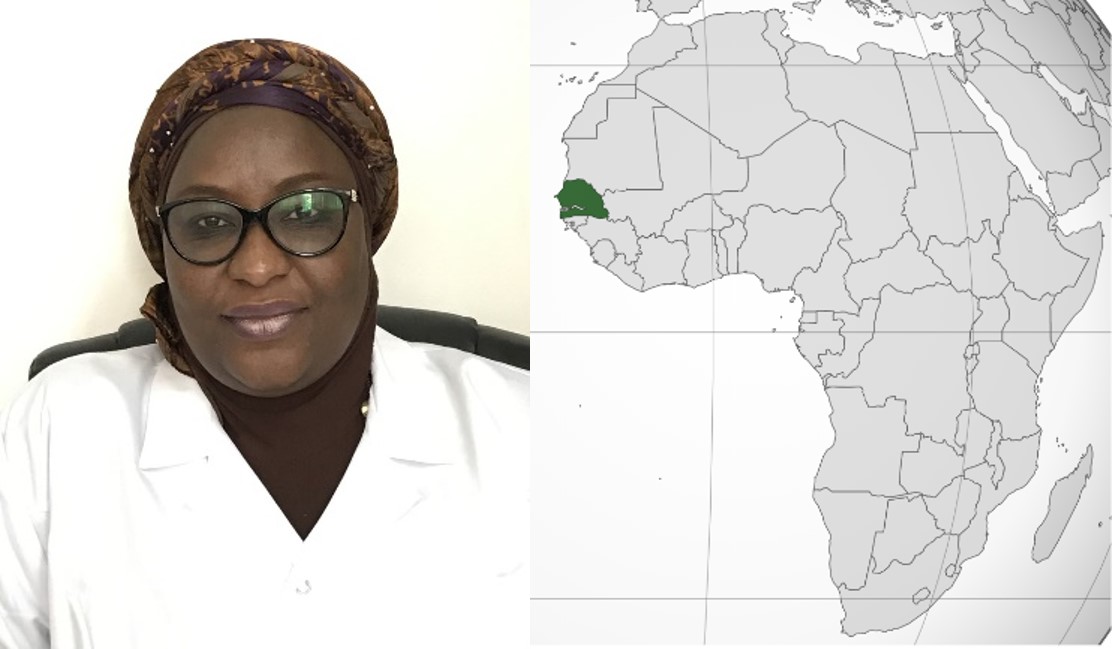 Dr. Aminata Touré is an associate professor of toxicology within the Faculty of Medicine, Pharmacy and Odontology at the Cheikh Anta Diop University of Dakar (Sénégal). She is a member of the Toxicology and Hydrology Laboratory (Laboratoire de Toxicologie et d'Hydrologie, LTH) within the Department of Pharmacy. Within the university, she provides lectures and practical courses to students of pharmacy, medicine, medical sciences and pharmaceutical sciences. She trains and supervises scientists and professionals from various sectors, as well as students. In addition, Pr. Touré is the head of Sénégal's Toxicovigilance Unit at the Ministry of Health and Social Action poison control centre. She has published several peer-reviewed papers, a selection of which is listed below.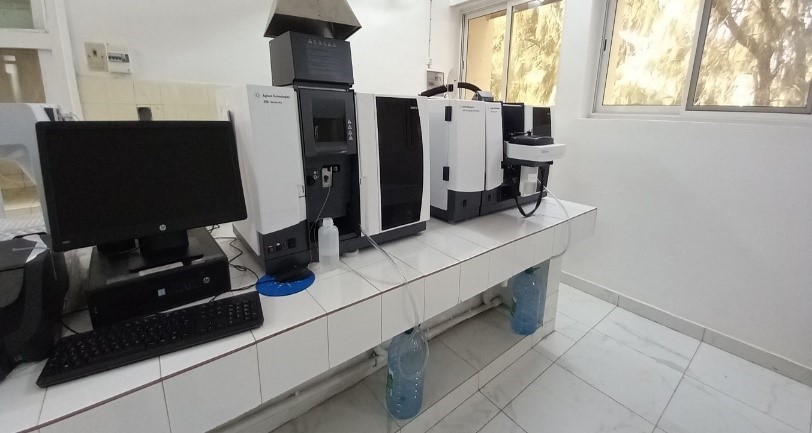 Laboratory instrumentation, LTH, Cheikh Anta Diop University (Dakar, Senegal)
The LTH is an analysis and expertise laboratory in toxicology and environmental pollutants, whose mission is to look for and identify toxic and undesirable substances, their metabolites and degradation products. It is also assigned to carry out an environmental analysis of chemical risks in order to define toxicological exposure scenarios and to carry out biological monitoring. The LTH collaborates with various national and international entities to carry out its mandate in the fields of environment, industry, agrifood, hydrology and public health.
Designated as a reference toxicology centre in Senegal, the LTH provides specialized laboratory analyses for metals (arsenic, cadmium, iron, lead, mercury, etc.), environmental pollutants and their metabolites (particle matter, pesticides, phthalates, etc.), water pollution (speciation of water and reducing metals, organic micropollutants) and drugs and drugs of abuse (amphetamines, opiates, etc.). The LTH also supports hospital services in the management of intoxication cases. To carry out these activities, the LTH has equipment for the identification, screening, qualitative and quantitative analysis of substances in various biological (blood, urine, hair, nails, tissues, etc.) and environmental (particles, sediments, food products, water, etc.) matrices.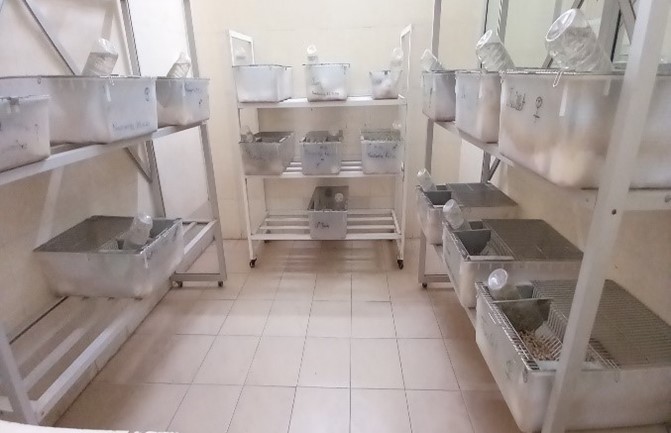 Animal facilities, LTH, Cheikh Anta Diop University (Dakar, Senegal)
The LTH is nevertheless confronted with a certain number of constraints and difficulties, such as ensuring research funding. Research activities are expensive, and benefits are not immediately noticeable. This constraint tends to limit the expression of new talent in research by limiting the scope of the various players. Logistical difficulties are also present, e.g., the unavailability of certain devices which would allow the team to better respond to requests in the field of medico-legal expertise and the rapid diagnosis of severe intoxication cases.
Selected publications:
Cabral, M., Garçon, G., Touré, A., Bah, F., Dewaele, D., Bouhsina, S., Cazier, F., Faye, A., Fall, M., Courcot, D., Verdin, A., 2021. Renal impairment assessment on adults living nearby a landfill: Early kidney disfunction biomarkers linked to the environmental exposure to heavy metals. Toxicology Reports, 8, pp. 386-394. https://doi.org/10.1016/j.toxrep.2021.02.009
Touré, A., Cabral, M., Lam, A., Dioum, M.D., Sarr, A., Bah, F., Diop, C., Diop, M., Touré, N.N., Fall, M., 2021. Persistent organic pollutants (POP) concentrations over time in Senegal. Toxicologie Analytique et Clinique, 33, pp. 91-100. https://doi.org/10.1016/j.toxac.2020.10.017
Cabral, M., Touré, A., Garçon, G., Diop, C., Bouhsina, S., Dewaele, D., Cazier, F., Courcot, D., Tall-Dia, A., Shirali, P., Diouf, A., Fall, M., Verdin, A., 2015. Effects of environmental cadmium and lead exposure on adults neighboring a discharge: Evidences of adverse health effects. Environmental Pollution, 206, pp. 247-255. https://doi.org/10.1016/j.envpol.2015.06.032
Touré, A., Cabral, M., Diop, C., Diéne, N., Fall, M., Diéye, A.M., Diouf, A., Lhermitte, M., Humbert, L., 2012. Determination of polymorphism of acetylation of the N-acetyltransferase 2 in the Senegalese population by using caffeine test. Annales de Toxicologie Analytique, 24, pp. 119-127. https://doi.org/10.1051/ata/2012013
Want to be part of our series "Spotlight on African Toxicology"? Get in touch with the TIAFT Communications Committee at communications@tiaft.org. We are looking for toxicologists all across the continent!