Mutambuze Innocent Louis, M.Sc., Uganda
Published on: 11-05-2021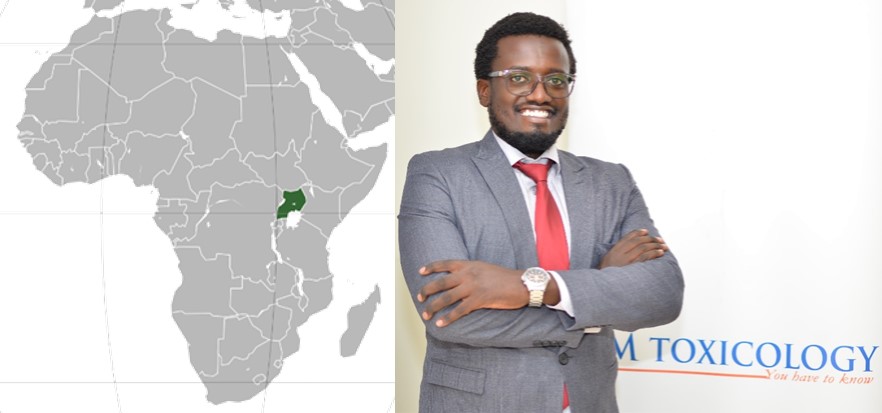 Mutambuze Innocent Louis, M.Sc. is the founder and Chief Executive Officer (CEO) of M Toxicology and a part-time forensic science lecturer at Cavendish University (Kampala, Uganda). Holder of a B.Sc. in biochemistry and chemistry from Makerere University (Kampala, Uganda), he went to the United Kingdom to obtain his master's degree in forensic toxicology by research from Bournemouth University. Mr. Mutambuze started his career in forensic toxicology by working as a government analyst in the Directorate of Government Analytical Laboratory (DGAL) under the Ministry of Internal Affairs of Uganda. Upon completion of his M.Sc., he became head of the Toxicology Laboratory, a position he held for five years. During his tenure, Mr. Mutambuze was involved in crime scene investigation, as well as the analysis of drugs, poisons and pesticides using GC-MS, LC-MS/MS, HPLC, GC-FID and GC-NPD. He also worked towards the accreditation of the laboratory under ISO 17025 through implementation of a quality assurance system, including participation in numerous proficiency tests. Mr. Mutambuze later joined the Ministry of Gender, Labour and Social Development as a senior occupational hygienist. His primary role was to head the occupational hygiene unit, inspect workplaces for safe systems of work, work processes and work methods, and perform environmental and biological monitoring with the aim of reducing occupational exposures.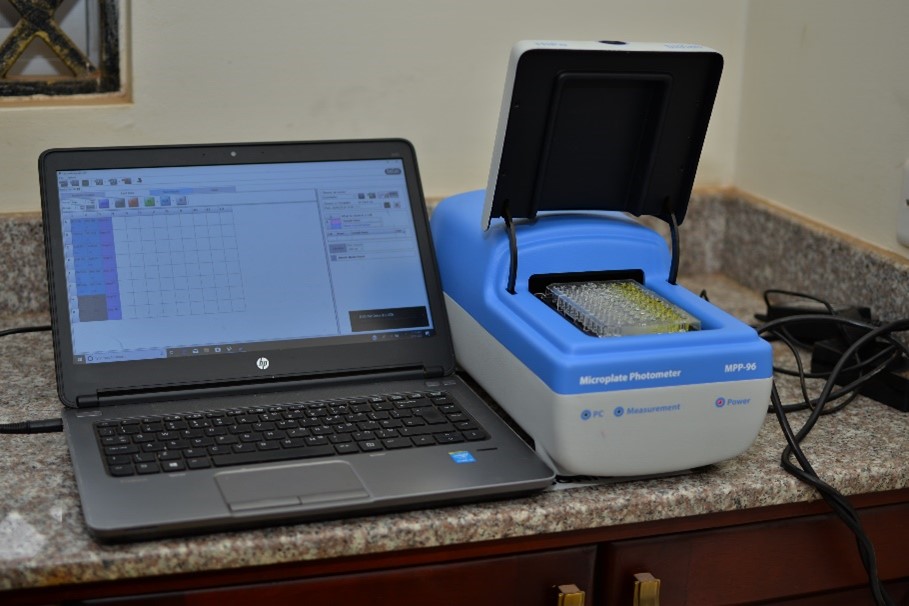 A microplate photometer at M Toxicology laboratory
In 2015, Mutambuze founded M Toxicology Ltd., where he is currently CEO and Lead Toxicologist. This private laboratory is the first of its kind in East and Central Africa, currently employing 8 individuals. The two main specialties of M Toxicology are workplace drug and alcohol testing, as well as biological monitoring of occupational exposures. To fulfil its workplace drug testing mandate, drugs of abuse are screened in urine and oral fluid using lateral flow rapid tests and enzyme-linked immunosorbent assay (ELISA), followed by LC-MS/MS confirmation. Alcohol (ethanol) is tested using approved breathalysers. Monitoring of occupational exposures is carried out using ELISA and LC-MS/MS techniques. A common application is evaluation of benzene exposure using S-Phenyl-Mercapturic Acid (SPMA) as a biomarker in urine. Beyond laboratory work, M Toxicology also conducts trainings about how to implement drug and alcohol-free workplace programs, as well as Drug Recognition Expert (DRE) training for the transport industry. With clients in Uganda, East and Central Africa and elsewhere, the reach of M Toxicology is constantly evolving!
Related publications:
Kaye, E., Nyombi, A., Mutambuze, I.L., Muwesa, R., 2015. Mancozeb residue on tomatoes in central Uganda. Journal of Health and Pollution, 5, pp. 1-6. https://doi.org/10.5696/i2156-9614-5-8.1
Map image modified from image by Marcos Elias de Oliveira Júnior on www.wikipedia.com