Bronwen Davies, M.Sc., South Africa
Published on: 09-09-2021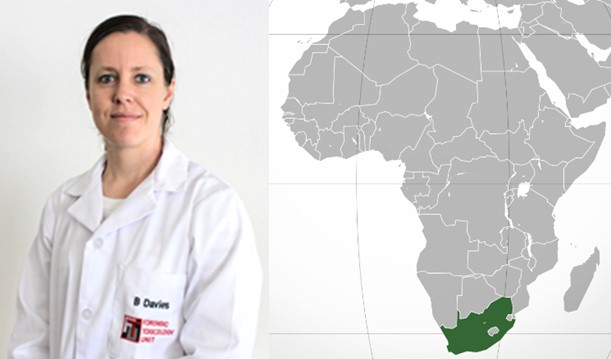 Bronwen Davies, M.Sc., leads the Forensic Toxicology Unit (FTU), a service, research and teaching laboratory in Cape Town, South Africa. Holding the title of Deputy Director: Forensic Toxicologist within the Western Cape Government Department of Health, Forensic Pathology Service, she was the first forensic toxicologist appointed in a provincial government of South Africa. She is also a lecturer and supervises postgraduate student research within the Division of Forensic Medicine and Toxicology at the University of Cape Town (UCT). Previously, she studied chemistry and physiology at UCT before receiving a Fulbright Scholarship to George Washington University in Washington, D.C. to complete her master's in forensic toxicology. She gained expertise at the D.C. Medical Examiner's Office, and returned to Cape Town to develop a new provincial postmortem toxicology service for the Forensic Pathology Service. She is currently working towards a PhD in Forensic Toxicology from UCT as well as a postgraduate diploma in Medical Toxicology from Stellenbosch University. Bronwen is a member of international organisations including TIAFT (where she serves on the Young Scientists Committee), the Society of Forensic Toxicologists (SOFT), the American Society of Crime Laboratory Directors (ASCLD), and the American Academy of Forensic Sciences (AAFS), as well as local organisations including the South African Academy of Forensic Sciences (SAAFS) and the Toxicology Society of South Africa (TOXSA).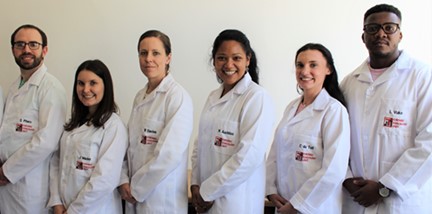 Core staff of the Forensic Toxicology Unit (FTU). The team also takes in new postgraduate interns and students each year.
Bronwen started the Forensic Toxicology Unit in 2016, and now works with a growing team of driven individuals striving to transform toxicology in the country. Historically, forensic toxicology has been an under-recognised and poorly resourced field in South Africa. National public toxicology services still struggle with systemic challenges and backlogs, resulting in delays in medico-legal case conclusions. The FTU strives to improve public testing services in the province and enhance the profession through local and global teaching and research initiatives and collaborations. With a newly refurbished laboratory and instrumentation, the unit provides a strong platform for training current and future scientists in the field of forensic toxicology.

The new Observatory Forensic Pathology Institute (OFPI) in Cape Town, set to transform death investigation and forensic toxicology in the province
Over the past few years, Bronwen and the FTU team have played an integral role in the development of the new Observatory Forensic Pathology Institute (OFPI), based in Cape Town. This facility will house one of the busiest mortuaries in the province, a histopathology laboratory, as well as laboratories providing services to all of the provincial mortuaries (16 in total)—including forensic toxicology, molecular forensics, entomology, osteology and anthropology. These labs will support ancillary investigations for the province's unnatural death caseload of approximately 11,000 cases per annum. This is the first facility of its kind in the country, and is set to strengthen the death investigation process. Following movement into the new facility in 2021, the FTU expects to receive over 8,000 postmortem toxicology requests for volatiles, drugs, pesticides, carboxyhaemoglobin and other analytes of interest. Drugs and chemicals commonly involved in toxicity fatalities include pharmaceuticals such as antidepressants, sedative-hypnotics and opioids; "street" pesticides such as terbufos; and abused drugs such as methamphetamine, mandrax (methaqualone and diphenhydramine), and heroin. Research within the Unit is geared towards postmortem and analytical toxicology, drug-facilitated sexual assault, toxicogenetics, and forensic science leadership and management.
Selected publications:
Auckloo, M.B.K.M., du Toit, C., Davies, B.B., 2021, The role of alcohol and drug intoxication in fire-related incidents in Africa: A systematic review. [Under review.]
Pharo, G., Auckloo, K., Davies, B.B., The role of mandrax (methaqualone) in unnatural death in Cape Town. [In preparation.]
Auckloo, M.B.K.M., Davies, B.B., 2019. Post-mortem toxicology in violent fatalities in Cape Town, South Africa: A preliminary investigation. Journal of Forensic and Legal Medicine, 63, pp. 18-25. https://doi.org/10.1016/j.jflm.2019.02.005
Tiemensma, M., Davies, B., 2018. Investigating drug-facilitated sexual assault at a dedicated forensic centre in Cape Town, South Africa. Forensic Science International, 288, pp. 115-122. https://doi.org/10.1016/j.forsciint.2018.04.028
We reserved the final African Toxicology Spotlight for our meeting host country of South Africa. This will conclude our "Spotlight on Africa" series, and we regret that the meeting had to be cancelled due to safety concerns and travel restrictions amidst the ongoing COVID pandemic. We wish to thank everyone who contributed to the series.