Back from Bonn, it was a success!
Published on: 15-09-2010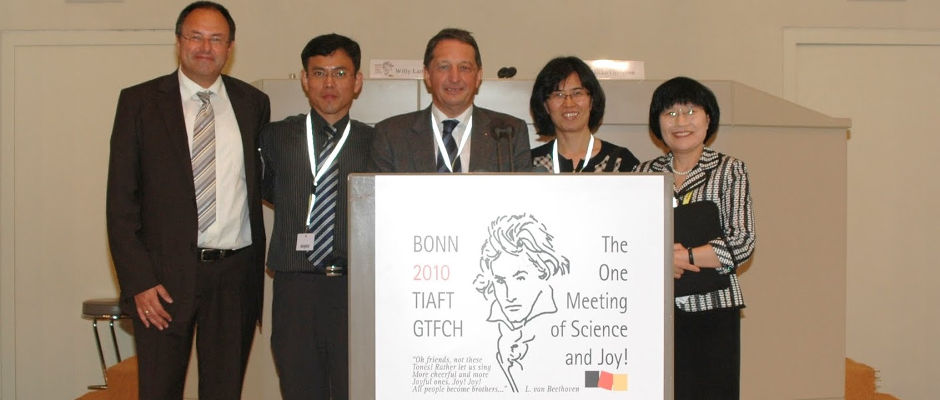 The social program was spectacular and showcased the beauty and hospitability of the region. Thank you to Frank Musshoff and Hans Maurer and the staff of their respective laboratories and the wider organizing and scientific committees including Thomas Kraemer and Frank Peters for the scientific program and to Stefan Toennes for the web content. I would also like to thank again all of the sponsors and exhibitors that helped make this meeting such a success. We all look forward to next year in San Francisco late September 2011 with the combined meeting with SOFT.
Five toxicologists from developing countries attended the meeting after receiving travel scholarships from TIAFT. These were:
Isabel Kazanga - Malawi
Gafer Ahmed - Egypt
Tangbanleubal Chalongkwan - Thailand
Mariza Insaurralde - Paraguay
Flavia Thiesen - Brazil
Congratulations to the winners of our awards and prizes.
Marilyn Huestis - Allan Curry Award
Simona Pichini - Achievement Award
Gisela Skopp - Best article in Bulletin award
Young Scientist Awards
Best oral:
Dirk Wissenbach
Saarland University, Department of Experimental & Clinical Toxicology, Homburg (Saar), Germany
Best poster
Simon Beuck
German Sport University Cologne, Center for Preventive Doping Research, Germany
Best paper
Rafael Linden
Universidade Feevale, Instituto de Ciencias da Saude, Novo Hamburgo, RS, Brazil
Springer Award (Poster)
Nahoko Uchiyama
National Institue of Health Sciences. Tyo, Japan
Thank you to those who attended the business meeting. The meeting voted to hold the 2014 meeting in Buenos Aires, Argentina. Congratulations to Oscar Locani and Luis Ferrari for preparing this bid with their colleagues in Latin America. The meeting also approved to raise the annual dues to USD50 (from next year). The additional amount will be used to support our expanding developing countries program.
In the next letter I will detail some of the other activities planned by the TIAFT board for the coming year.
Olaf Drummer
TIAFT President