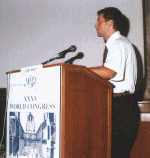 TOXICOLOGICAL DETECTION OF ACE INHIBITORS AND THEIR METABOLITES IN URINE BY GC/MS AFTER EXTRACTIVE ALKYLATION
Arlt J.W., Maurer H.H.
Institute of Pharmacology and Toxicology, Department of Toxicology, University of Saarland, D-66421 Homburg (Saar), Germany
---
Angiotensin converting enzyme (ACE) inhibitors are widely used in the treatment of hypertension and congestive heart failure. Overdose may lead to severe cardiovascular disorders. For diagnosis of such an intoxication and for monitoring the patients compliance a GC-MS procedure was developed for the detection of ACE inhibitors and their metabolites in urine as part of a screening procedure for acidic drugs.

Methods. The amphoteric analytes were extracted as ion pairs with the phase-transfer catalyst tetrahexylammonium hydrogensulfate at pH 12 from urine and methylated with methyl iodide in one step by extractive alkylation. The part of the phase-transfer catalyst in the organic phase was removed by solid phase extraction on a diol phase. The compounds were separated by capillary GC and identified by computerized MS in the full scan mode (for experimental details see the TIAFT Proceedings of Interlaken).

Results. Mass chromatography with the ions m/z 157, 169, 172, 215, 220, 234, 248, 262 and 365 indicated the possible presence of ACE inhibitors and/or their metabolites. The identity of positive signals in the reconstructed mass chromatograms was confirmed by comparison of the full mass spectra underlying the peaks with the reference spectra recorded during these studies.The overall recovery ranged from 75% to 95 %. The limit of detection was 10 ng/mL (S/N 3) in the full scan mode.

Conclusions. Using this method, we were able to monitor the intake of therapeutic doses of benazepril, enalapril, perindopril, quinapril, ramipril and trandolapril.