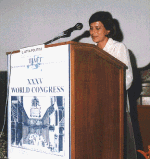 IN VITRO ADSORPTlON STUDY OF FLUOXETINE ONTO ACTIVATED CHARCOAL AT GASTRIC AND INTESTINAL pH USING HIGH PERFORMANCE LIQUID CHROMATOGRAPHY WITH FLUORESCENCE DETECTOR
Atta-Politou J., Tsitoura A., Koupparis M.A.*
Department of Forensic Medicine and Toxicology, School of Medicine, University of Athens, Athens 115 27
*Department of Chemistry, Laboratory of Analytical Chemistry, University of Athens, Panepistimiopolis, Athens 157 71, Greece
---
Background. This in vitro investigation was undertaken to study the adsorption characteristics (maximum adsorption capacity and affinity constant) of fluoxetine to activated charcoal (AC) and its commercial formulation Carbomix® powder in simulated gastric (pH=1,2) and intestinal (pH=7,2) fluid environment.

Methods. Solutions containing Fluoxetine and charcoal were incubated at 37° C for one hour and filtrated. A simple and rapid reversed phase HPLC method was used for the determination of free fluoxetine concentrations (range 0.2-8 µg/mL) in the diluted filtrate. Samples were chromatographed on a 5 µm Kromasil 100 C8 column (25 cm x 4 mm id) using acetonitrile/0.05 M KH2PO4 45:55 v/v as the mobile phase, using fluorescence detection (Lex=231 nm, Lem=310 nm) and protriptyline as internal standard.

Results. The maximum adsorption capacity values at pH 1.2 for AC and Carbomix® were 223 and 333 mg/g, respectively, while at pH 7,2 were 301 and 453 mg/g, respectively. The affinity constant values at pH 1,2 of AC and Carbomix® were 441 and 122 L/g, respectively, while at pH 7,2 were 482 and 589 L/g, respectively, revealing a very strong binding of fluoxetine onto charcoals.

Conclusions. Taking into account the referred toxic and lethal doses in cases of fluoxetine intoxications, both types of charcoals tested were found effective for adsorption at gastric and intestinal pH. The amount of fluoxetine adsorbed was significantly increased at intestinal pH, revealing the predominant adsorption of the undissociated form of the drug. Conclusively AC and Carbomix® can be used for medical treatment in cases of fluoxetine overdose.