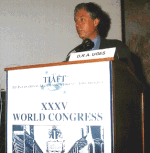 SALIVA AS MATRIX FOR CONTROL OF DRUGS AT HOUSE PARTIES
Uges D.R.A., Bloemhof H., Molmans B.
Laboratory for Clinical and Forensic Toxicology and Drug Analysis, Department of Pharmacy, University Hospital Groningen, P.O. Box 30.001, 9700 RB, Groningen, The Netherlands
---
Today house parties are very popular for the teenagers and young adults. Teenagers are frequently going to the hardcore parties, where all kinds of drugs of abuse (MDMA, amphetamines and cocaine) are taken. The young adults use to go to mellow house parties where hashish, LSD and low doses of MDMA are more popular. As it is difficult to get blood or urine from the participants during these parties we tried to get saliva on a voluntary basis, to get more information about the use of drugs.

Methods. At an "underground" house party in Groningen, people were asked to provide saliva. People were requested to hold a piece of cotton of 4 cm (from a Salivette®) in the mouth for about 1 minute. The saliva was liberated by centrifugation during 10 minutes at 3000 rpm.

Results. In 10 of the 15 cases investigated the drugs, mentioned by these people, were detected. In most samples amphetamine derivatives (primarily MDMA) were found by an HPLC method. No LSD was detected (EMIT®).

Conclusions. Saliva is a useful matrix for drug screening during house parties. However, Salivettes® gave too small a volume of saliva for extensive screening of drugs by immunoassay and HPLC.

Another complication for the collection of saliva is the fact that these people often suffer from thirst and a dry mouth.