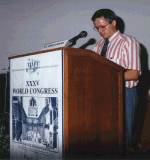 DO THE MORPHINE BLOOD LEVELS OF THE SWISS HEROIN SUBSTITUTION PROGRAM INFLUENCE OUR FORENSIC INTERPRETATIONS?
Briellmann T.A.
Institute of Forensic Medicine, Dep. of Toxicology and Forensic Chemistry, Pestalozzistrasse 22, 4004 Basel, Switzerland
---
In our forensic interpretations of morphine blood levels we refer normally to the literature or to our own experiences without knowing the real consumed doses. In the Swiss heroin substitution program a limited number of opiate addicts has the possibility to inject heroin several times a day under medical control. We had now the opportunity to analyze blood samples of 14 substitution patients taken 2 and 4 hours after the intravenous application of 80-300 mg of heroin. Our aim was to compare these results with our "normal" forensic morphine blood levels coming from autopsies or traffic cases.

The samples were extracted by an automatic SPE workstation, derivated with PFPA and analyzed by GC-MS. Another aliquot of the sample was hydrolyzed and after the identical extraction procedure the total morphine blood levels were determined.

The results show free morphine blood levels of more than 50 ng/mL and total morphine blood levels of more than 1200 ng/mL 2 hours after heroin intake. 4 hours after heroin injection free morphine blood levels of more than 100 ng/mL and total morphine blood levels of more than 1000 ng/mL were determined. No heroin and monoacetylmorphine were detected.

The results exhibit how high the opiate tolerances of some strong heroin users can be and therefore how difficult it is to make a good forensic interpretation when the consumed dose is not known.