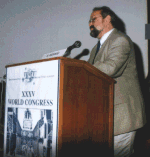 CHRONIC MULTIPLE DRUG ABUSE WITH SUICIDAL ENDPOINT
Asselborn G., Yegles M., Wennig R.
Laboratoire National de Santè, Division Toxicologie, Centre Universitaire de Luxembourg 162A, av. de la Faïencerie, L-1511 Luxembourg
---
Case history: A 44 old female was found dead at home by her husband. The police discovered a huge amount of many unused different drugs. The victim had a long history of psychiatric and neurological (pain clinic) episodes. The forensic pathologist did not find any unusual findings at the autopsy.

In the routine toxicological screening in different tissues the following drugs were found: tilidine, tramadol, noramidopyrine, alimemazine, haloperidol, paracetamol, morphine/codeine, doxepin, lorazepam and flunitrazepam. The most significant drugs were quantified in blood either by LC or GC-MS-SIM and gave the following results: tilidine 46,7 mg/L, nortilidine 32,7 mg/L, tramadol 28,8 mg/L, doxepine 0,1 mg/L, alimemazine 0,2 mg/L, haloperidol 0,05 mg/L, paracetamol 6,9 mg/L, codeine 0,009 mg/L respectively.

The quantification in hair by GC-MS-SIM gave the following results: codeine 2,9 ng/mg, nortilidine 7,4 ng/mg and tramadol 3,7 ng/mg.