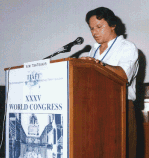 APPLICATION OF PUBIC HAIR ANALYSIS FOR LEGAL PURPOSES IN CRETE
Tsatsakis A.M.
Toxicology Laboratory, Medical School, University of Crete, Stavrakia, Iraklion, PO Box 1393, 71409 Crete, Greece
---
The Greek law for controlled substances differentiates the sentences for the addicts and traffickers; also the quantity of the drug is of importance, e.g., small amounts are evidence of personal use, when the abuser proves his addiction to the drug and don't usually result in strict sentences. During trial process, the arrested individual can petition the court to be transferred to specialized units for detoxication procedures. In many cases thorough proof of addiction or systematic use of the controlled substances is not apparent (smoking of drugs-nasal administration, long time in prison without drug testing).

Methods. The implementation of hair analysis was introduced to solve this problem. While visiting prisoners for hair collection, it was observed that many of them had cut their hair short, they were in prison for a long term, or they had no head hair. In most of these cases, head hair testing should give negative results. While generally sampling included urine, blood, and head hair, pubic and axillary hair was the sample of first choice in these cases. In this report we present the data obtained from the above-mentioned hair expertise performed on prisoners arrested for illegal drug use and waiting for trial. The majority of these prisoners were heavy heroin users.

Results. When comparing the head hair levels with those collected from the pubic region, significant discrepancies were apparent. Generally, pubic hair drug levels were approximately 10-40% higher than those of head hair, even in cases when sustained drug use started few days ago and head hair were not cut. Pubic hair sectional analysis assisted to confirm the offender systematic use of drugs.

Conclusion. The submission of such expertise to the investigative authorities and/or the court was of great value for the enforcement of justice.