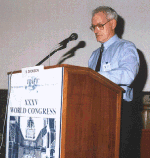 A SUSPECTED ACUTE POISONING WITH ACRYLAMIDE. ANALYSIS OF BLOOD AND HAIR FOR ACRYLAMIDE ADDUCTS
Dickson S., Heenan M., Cairns E., Sage M., Bergmark E., Kautiainen A.
Institute of Environmental Science & Research Limited (ESR), ESR Wellington Science Centre, PO Box 30 547 Lower Hutt, New Zealand
---
A case is presented of a middle-aged male who was in deep coma in Intensive Care for several months after suffering nerve damage very similar to that expected after acrylamide ingestion. It was suspected that acrylamide may have been given to him deliberately.

Blood samples were taken 4 and 24 weeks after the onset of symptoms and scalp hair samples taken 7.5 and 26 weeks after. These samples were analyzed for the presence of acrylamide as the adducts with valine or cysteine residues of hemoglobin or hair protein.

Valine adduct levels in protein of the 4-week blood sample were 860-fold higher than mean level of control blood proteins, indicating an exposure to high levels of acrylamide. A massive peak of the acrylamide-cysteine adduct as S-(2-carboxy ethyl)cysteine, was found in the 7.5-week hair sample, between 10 and 20mm from the root end. Analysis of 5 mm sections of individual hairs from the 7.5 week sample showed that this peak was restricted to less than 10 mm of the hair shaft.

The hair results showed that the acrylamide ingestion occurred as an acute dose or doses within a period of 2 weeks, at about the time of the suspected poisoning. No adducts were found in the later samples by which time the adducts would have been eliminated from the body or grown out of the hair.