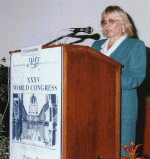 DRUG USE AMONG DRIVERS SUSPECTED OF DRIVING UNDER THE INFLUENCE
Lillsunde P., Körte T., Seppälä T.
National Public Health Institute, Mannerheimintie 166 Fin-00300 Helsinki, Finland
---
The results of epidemiological studies and statistics indicate that the trend of drug use, multidrug use and drug abuse is increasing among drivers in Finland. Benzodiazepines are the most frequently found drugs. In suspected drugs and driving cases in 1996, 50% of samples were positive for illegal drugs. Amphetamine and cannabis were the most common illegal drugs.

In a study from 1993, all blood samples of suspected drunken and/or drugged drivers in Finland during one week (n=332) were analyzed also for other drugs in addition to alcohol. Of the samples tested, 95.5% were from drivers suspected of drunken driving only. Other drugs than alcohol were found in 27% and that was six times more often than expected by the police. The frequencies for multidrug use were 37%. The frequencies for combined use of drugs and alcohol were 92%. Only 3.4% of drivers with positive drug findings were women.

Totally 13% (n=44) of the suspected drivers were involved in traffic accidents. Of the accident-involved drivers, 39% had other drugs in their blood. The police suspected drugs in 14% of the traffic accident cases.

Analysis of alcohol only seems to be insufficient to reveal the degree of driving impairment. The frequency of screening drugs should be increased.