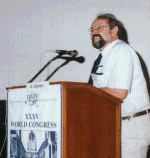 FIRST RESULTS OF THE "BELGIAN TOXICOLOGY AND TRAUMATOLOGY STUDY (BTTS)"
Wennig R.*, Verstraete A.G.**
* Laboratoire National de Santé, Division Toxicologie, Centre Universitaire de Luxembourg 162A, av. de la Faïencerie, L-1511 Luxembourg
** Laboratory of Toxicology,U.Z.Gent, 185, De Pintelaan, B-9000 Gent, Belgium
---
The Belgian Toxicology and Traumatology Study (BTTS) was set up to determine the prevalence of positive alcohol and drug findings in injured drivers, the nature and the severity of the injuries and the relation between these findings.

During 17 months in the years 1995 and 1996, 2053 drivers of motor vehicles or bicycles, older than 14 years, who had an accident and stayed in the hospital for at least 24 hours (or died in the hospital) were included in the study. Five hospitals situated in different towns (Brussels, Gent, Leuven, Liège and Namur) participated. A questionnaire, regarding driving experience, accident time, place and dynamics, social status, risk behavior, medical history, alcohol and drug consumption was completed. The screening analysis was performed in the laboratories of the participating hospitals and included ethanol determination on whole blood (by radiative energy attenuation) and qualitative screening of drugs in urine by fluorescence polarization immunoassay. Confirmation of positive immunoassay results was performed by GC-MS on urine in different centralized laboratories, for all drugs except barbiturates (GC-NPD on plasma) and benzodiazepines (GC-ECD and HPLC on plasma).

In weektime accidents, 22 % and 14 % of the victims had blood alcohol concentrations (BAC) exceeding 0.5 and 1.5 g/L respectively. In weekend accidents, these figures rose to 39 % and 24 %. The highest BAC were seen in nighttime accidents (48.7 % and 30.7 %) and especially during the weekend (54.3 % and 32.7).

The urine of 19 % of the drivers contained one or more drugs. The prevalence of drugs found in these injured drivers was amphetamines 3.0 %, barbiturates 1.3 %, benzodiazepines 8.5 %, cannabinoids 6.0 %, cocaine 0.7 %, methadone 0.4 %, opiates 7.5 % (2 % morphine and heroin, 5.5 % prescription opiates) and propoxyphene 0.2 %. Medications were seen with increasing frequency in the older drivers, while illegal drugs were mostly seen in the younger drivers.

Several spin-off studies are still being realized: antihistamines in serum, carbohydrate-deficient transferrin (CDT) to detect chronic alcoholism, comparison and further identification of benzodiazepines in serum and urine, drug detection in saliva, and quantification of several drugs in serum.