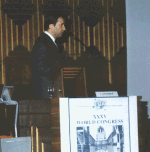 THE ANTILIPEMIC BENFLUOREX LEADS TO POSITIVE AMPHETAMINE FLUORESCENCE POLARIZATION IMMUNOASSAY (FPIA) RESULTS - STUDIES ON THE METABOLISM AND TOXICOLOGICAL DETECTION IN URINE BY GC-MS AND FPIA
Kraemer T., Sick F.D., Maurer H.H.
Institute of Pharmacology and Toxicology, Department of Toxicology, University of Saarland, D-66421 Homburg (Saar), Germany
---
Studies on the metabolism and toxicological analysis of benfluorex (R,S-2-[a-methyl-3-(trifluoromethyl) phenethylamino]ethyl benzoate, BF), using GC-MS and FPIA are described.

Methods. Metabolites were identified in urine samples of volunteers by GC-MS after enzymatic cleavage of conjugates, extraction and acetylation. For toxicological detection, acid hydrolysis was prefered. The Abbott TDx amphetamine/methamphetamine II (AM/MA II) was used for screening.

Results. The following metabolites of BF could be identified. Ester hydrolysis of BF lead to benzoic acid and an alcohol derivative of BF. The alcohol was oxidized to the carboxylic acid. Side chain degradation by N-dealkylation lead to N-dealkyl-BF, which is a common metabolite with fenfluramine, namely N-deethyl-fenfluramine (norfenfluramine). Further metabolism via oxidative N-deamination lead to a deamino-oxo derivative. For GC-MS detection, the systematic toxicological analysis including acidic hydrolysis, extraction at pH 8-9 and acetylation was appropriate. After ingestion of 300 mg of BF, BF specific (non N-dealkylated) metabolites could only be detected for up to 56 h whereas N-dealkyl-BF could be detected for up to 216 h. Between 60-216 h after ingestion, only N-dealkyl-BF but no BF specific metabolites were detectable. Therefore, misinterpretation can occur after this time. Misinterpretation may also occur, when the urine samples are monitored by amphetamine immunoassays. BF and some of its metabolites cross-reacted on the TDx assay AM/MA II (cross-reactivity of BF: 0.3-0.9 %). This TDx assay gave positive results for up to 168 h after ingestion, at the cut-off concentration recommended by the manufacturer.

Conclusions. All the positive immunoassay results could be confirmed by the described GC-MS procedure. However, the intake of BF cannot be differentiated from fenfluramine intake in the time window of 60-216 h after ingestion of BF.